Pure Water House Sdn Bhd
77 Tingkat Bawah,
Jalan Sultan Ismail,
20200 Kuala Terengganu,
Terengganu, Malaysia.

+6013-9308825
+609-6262793
+609-6262797

Branch
Lot 20M, Kompleks Selayang,
Batu 8 1/2, Jalan Ipoh,
Batu Caves,
68100 Selangor,
Malaysia.
5 inch filters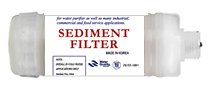 Dirt, Sand, Rust Removal & Other Solid Particles Reduction Filter Cartridge
This Filter is designed for reducting suspended materials suh as dirt and sand.
manufactured entirely from FDA compliant materials, these cartridges are suitable for water purifier as well as many industrial, commercial and food service appliucations.