Pure Water House Sdn Bhd
77 Tingkat Bawah,
Jalan Sultan Ismail,
20200 Kuala Terengganu,
Terengganu, Malaysia.

+6013-9308825
+609-6262793
+609-6262797

Branch
Lot 20M, Kompleks Selayang,
Batu 8 1/2, Jalan Ipoh,
Batu Caves,
68100 Selangor,
Malaysia.
Bio Green Hyundai HWC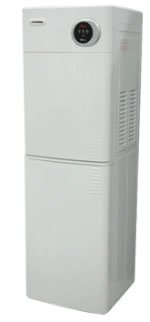 LED indicator
Rated power
505W
Heating/Cooling power
420W/85W
Heating capacity
>90C 5L/H
Cooling capacity
<10C 2L/H
Integrative door hinge makes better stability
Intelligent Electricity-saving
Double dry-boiling protection
High efficient compressor cooling system, energy saving and low noise operation
Double safety protection from overheating and empty working by thermostat
SUS304 Stainless steel water tank
Dimension
: 310X310X1010
Reservoir tank
2 Liters
Cold tank
2 Liters
Hot tank
2 Liters
4~6 stage filter system(option) inside.