Pure Water House Sdn Bhd
77 Tingkat Bawah,
Jalan Sultan Ismail,
20200 Kuala Terengganu,
Terengganu, Malaysia.

+6013-9308825
+609-6262793
+609-6262797

Branch
Lot 20M, Kompleks Selayang,
Batu 8 1/2, Jalan Ipoh,
Batu Caves,
68100 Selangor,
Malaysia.
Bio Green CW919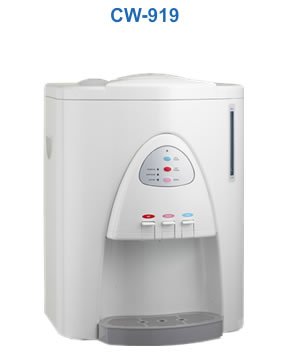 Specifications
CW-919C Water Dispenser HOT / WARM / COLD
Specification :-
540x435x575(mm)
Double secure prevents from overheat or dry-heat
(by sensor and thermostat).
Double secure against water overflow
(by sensor and floating valve)
Automatic control for purified water refill.
Chilling system by compressor with LG R134a refrigerant.
Chilling capacity: 20L/hour, chilled water under 10 degree C.
Each hot, ambient and chilled water has its own individual tank.
Heating capacity: 10L/hour. Hot water dispenser can be assigned
Hot water tap with safety device.
Re-boil function up to 100 degree C.
Capacity of each tank: 2L/cold tank, 2L/hot tank, 10L/room tank
Reservoir tank: 14 L